Speech of Mr. Che Fu at UN Cultural Event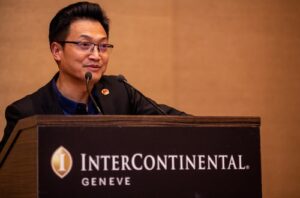 It's my honor to attend the UN Human Rights Concert again and have the opportunity to share my joy at such a wonderful moment. I attended the UN Human Rights Concert last year, and surprised by the harmony and great beauty of the artistic works by Mikel Barcelo.I appreciate such events like the UN Human Rights Concert very much, so I decided to invite more charity angels for fully supporting the Concert this year and next year to show our great and harmonious China.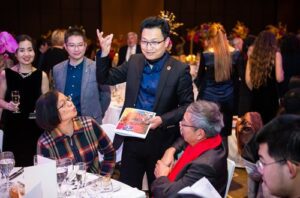 China is the only ancient civilization with 5,000 years of constant development centered on the concept of harmony and peace. In the past 40 years, China has witnessed rapid development of sustainable human rights. This year, China's GDP per capita raised from US 1.25 per person per day to more than US 10,000 per capita income, 400 million of population has become middle-class. Forty years ago, 84% of Chinese people lived in rural areas. By this year, 60% of 834 million farmers have moved into cities. At the same time, there were 800 million population lifted from poverty by 2020. Nowadays, there is almost no beggars, no bike thefts in the street. No one is out of school due to poverty, no elderly can't pay by mobile phones, no villages without road networks, and no rural areas without communication signals. Thousands of young parents have their families defined by the UN Charter of Human Rights, they took children to parks of culture and arts at weekends, nurturing their promising future in such leisure places. Few were interested in demonstrations, protesting and violence. Chinese People of all ethnic groups are making efforts to pioneer a new era for mankind, implying a well-off people-centered society alleviated from poverty, which is shifted to a nature-centered comprehensive approach from business-oriented one since 5,000 years ago.
Even at the mid-night in China, a girl from anywhere can go out and back home safely and freely. For forty years, no one has any doubt about safety. What's more gratifying is that China has become the only place where there is no financial and economic crisis for forty years, people have enjoyed the right to equal development to the greatest extent … All these statistics and information I report above is to thank the great United Nations Declaration of Human Rights drew up 71 years ago, which pointed out Chinese people the best direction with hope. What we achieved in developing human rights in 40 years are fruits of humanity across the world, and more importantly, it would be a reference for changing the Latin American rebellion, the French parade, Africa's poverty issue and global financial crisis, instead of being criticized for human rights issues.Chinese People of all ethnic groups are making efforts to pioneer a new era for mankind, implying a well-off people-centered society alleviated from poverty, which is shifted to a nature-centered comprehensive approach from business-oriented one since 5,000 years ago.
China is making efforts to share the great achievements of human rights development with the whole world together with Welfare Economic Cooperation Organization (WPEO). We have experienced continuous progress in many fields in modern times. Peace and mutual respect between different civilizations need to be attached greater attention. This is the only way we can all move towards success and happiness. Everyone's efforts are precious in our new era of working together to build a human intelligent civilization. We were laborers in the past; today we are the communicators of smart energy. Peace and mutual respect are key to using this energy to build a better world. The wisdom of human rights is illuminating more places beyond China.
I extend full respect to this great human rights concert organized by the United Nations Art Foundation. As mentioned earlier, art is one of the basic rights and responsibilities of human beings. On UN Human Rights Day, what better than to pay tribute to human rights by integrating art and music? Is there a better place than the United Nations to host the concert? The answer is no. UN is the unique political organization that represents our global human rights values, a platform for global consensus. Please bear in mind this conviction, and I strongly hope that as time goes by, the understanding of the meaning of this UN human rights concert will become broader, and we also need to disseminate this meaning to the public, so as to deliver benefits from harmonious wisdom to all.
Thank you all for coming and listening.
VI World Concert of Human Rights
Holding of the Human Rights Concert on December 14, 2019, on the occasion of World Human Rights Day in Room XX of the United Nations, Geneva.
THE ONUART FOUNDATION
The ONUART Foundation is a unique and essential global actor to support the role of art in promoting the activities of the United Nations in areas such as intercultural dialogue, human rights and key issues of globalization, such as the 2030 agenda for sustainable development.
Through its action, ONUART also wants to:
promote the social responsibility of large multinational companies and their visibility within the United Nations system,
Spread, through art and cultural diversity, the values ​​and principles that underlie multilateralism.
Promote human rights through the use of art as a language for universal understanding.
To carry out its activities, the Foundation is financed by donations received from individuals and public and private entities.
ONUART's first major project was the complete renovation of Hall XX on Human Rights and the Alliance of Civilizations at the Palais des Nations in Geneva. Room XX incorporates into its dome a work by the artist Miquel Barceló: La Salle was inaugurated on November 18, 2008 by His Majesties the King and Queen of Spain, the President of the Spanish Government, the President of Turkey, the President of the Swiss Confederation, the Secretary-General of the United Nations, as well as various dignitaries and representatives of the international community.
This first completed project, the activity of the ONUART Foundation focused on its strategic objectives, the promotion of contemporary art and cultural diversity in the service of a better understanding of civilizations.
The «Concert for Human Rights» was held on Saturday, December 14, 2019 on the occasion of Human Rights Day. This is the fifth concert (after 2014, 2015, 2016, 2017 and 2018) to highlight, from Geneva, the importance of human rights worldwide.
Date: Saturday, December 14, 2019 at 6:00 p.m.
Venue: Human Rights and Alliance of Civilizations Room (Room XX), Palais des Nations, United Nations Office at Geneva
Concert: Musical performance by maestro Grigory Sokolov with a selection of excellent piano compositions from various concert masterpieces and composers from around the world.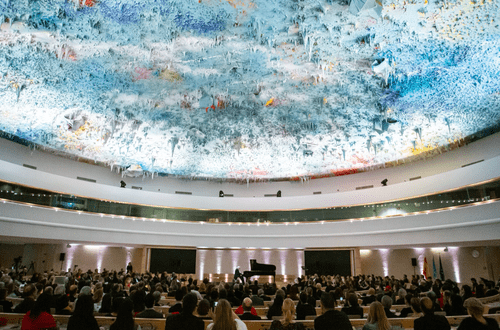 THE CONCERT: Initial Speeches
H.E. Tatiana Valovaya, Director General of the United Nations Office at Geneva
For the sixth consecutive year, the United Nations Office at Geneva is pleased to host the Human Rights Concert, together with the Fundación ONUART. It is fitting that this concert is held in the Human Rights and Alliance of Civilizations Room, under the beautiful work of art created by the artist Miquel Barceló as part of renovations that were made possible thanks to the generous support of Spain and the work of the Fundación ONUART.
This concert commemorates Human Rights Day and the adoption of the Universal Declaration of Human Rights in 1948, which firmly sets out the equal dignity and worth of every person. Our shared humanity is based in these universal values.
This concert is also a message of support to all those who fight to protect human rights. While much progress has been made in the past seven decades, sadly abuses still occur with alarming regularity. We honour the dedication and sacrifice of human rights' defenders.
Music and art are powerful means to promote dialogue and understanding between people, communities and cultures. As you enjoy the special performance by Maestro Grigory Solokov, who lends his exceptional talent to the promotion of peace and human rights, I invite you to reflect on how we can take action in our own daily lives to uphold the rights that protect us all.
H.E. Michelle Bachelet, United nations High Commissioner for Human Rights.
Celebrating Human Rights Day
Youth Standing up for Human Rights
Like music, human rights reach across political, economic, social and cultural boundaries.
Like music, human rights bind us to one another, transcending day-to-day differences, reconnecting us to the core emotions of our shared experiences.
Like music, human rights orchestrate diverse voices into harmony.
All of us, with all our different characteristics, heritages and expressions, are born equal in dignity and rights. Today's young people are stepping forward and speaking up to uphold this deep and timeless truth.
They're demanding the right to participate in decisions. They're demanding economic justice, climate justice, and an end to discrimination and repression. They're demanding action to build a better world for all of us.
Since the Universal Declaration of Human Rights first guided States out of the ashes and slaughter of global war, human rights principles have repeatedly proven, their effectiveness in building more harmonious and resilient societies.
These rights are inalienable: they cannot be denied or removed. When they drafted and adopted the Universal Declaration of Human Rights, States promised to make the well-being and dignity of all women, men and children an overriding goal.
Young people play a crucial role in positive change, for every society.
Their participation is essential to achieving sustainable development, and inclusive decision making.
And these calls by young people echo and resonate across every culture and every society. We need to protect, support and fulfill them.
Young people have a right to peacefully raise their voices, and to enjoy the full range of civil, political, economic, social and cultural rights, as well as the right to development. Empowering them to better know and claim these rights will generate benefits for everyone.
I hope this performance inspires in you a renewed understanding of the energy we generate when we come together as a united humanity.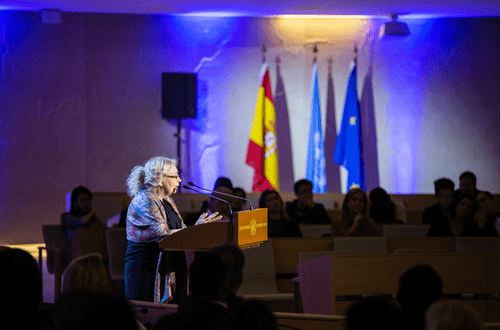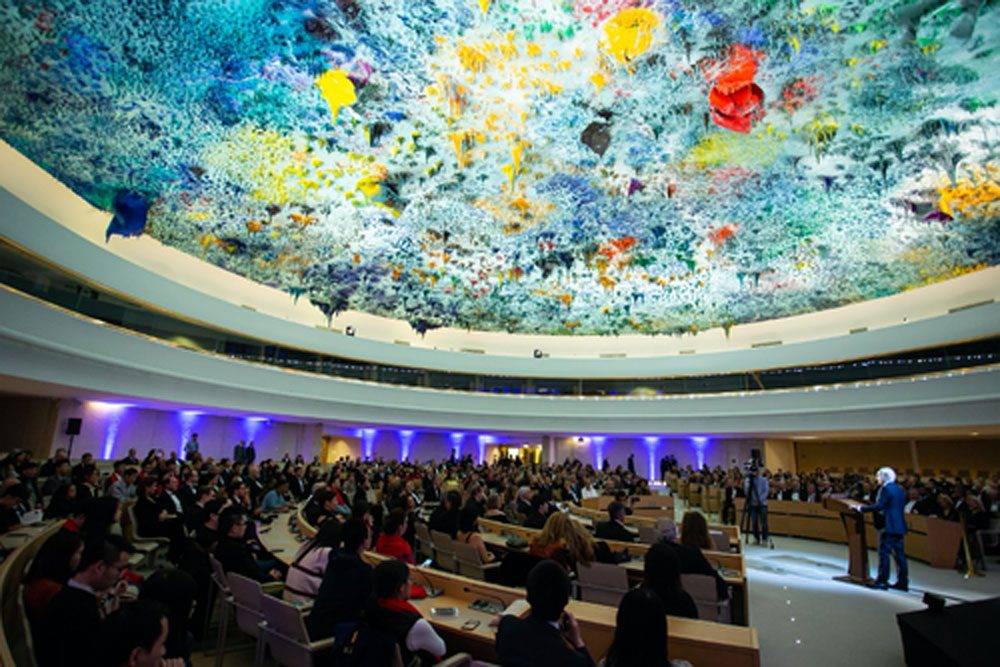 H.E. Juan Antonio March, President Fundación ONUART.
Art ennobles cultures, dignifies projects, and brings to surface what lies deepest in the human mind. It is under such premise that the Onuart Foundation promoted the renovation of Room XX at the «Palais des Nations» and provided one of the best painters of the 21st century, Miquel Barceló, to crown it with his magnificent piece.
The beauty of what was achieved led the Secretary-General Ban Ki-Moon in 2008 to baptize the room as «The Room of the Human Rights and the Alliance of Civilizations», two capital pillars of a world that overcomes division and conflict and which advances to focus only on the human being, a world that blooms under the concept of «One Humanity».
In an effort to promote projects that unite art and global governance, the Onuart Foundation has been organizing the World Human Rights Concert since 2014 in this iconic hall on the occasion of the Universal Human Rights Day. We aspire to create a must-see event in representation of Peace and the Human Rights movement.
Great musicians, the likes of Daniel Barenboim, Pretty Yende, Juan Diego Flores, Erin Wall, Fatma Said, Huiling Zhu, Pablo Mielgo, Josep Pons or Leo Nucci have starred here and today we have the great figure of Grigory Sokolov. And at last, we strive for this concert to reach, in many forms, all corners of this world, displaying the synergies of art, culture and governance.
Participation in the Concert
The corresponding invitations were issued to:
Representatives of the 192 missions accredited to the United Nations,
Representatives of the Swiss and Geneva authorities.
Directors of international organizations in Geneva,
Representatives of the Office of the United Nations High Commissioner for Human Rights,
Guests of the Foundation, including the most important members of the ONUART Foundation.
The cultural services of UNOG communicated the concert and guaranteed the distribution to the Secretary of the Secretary-General of the United Nations Antonio Guterres.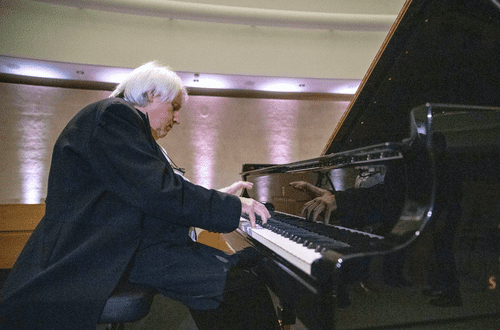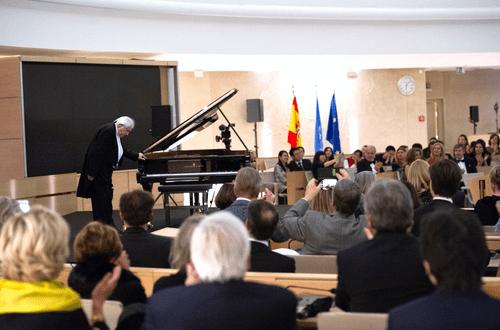 A. MOZART
Prelude (Fantasie) and Fugue in C major KV 394 (383a)
Sonate n. 11 in A major KV 331 (300i) op. 6 n. 2
Andante grazioso
Menuetto. Trio
Alla turca. Allegretto
Rondo in A minor, KV 511
BRAHMS
Klavierstücke, Op. 118
Intermezzo. Allegro non assai, ma molto appassionato (A minor)
Intermezzo. Andante teneramente (A major)
Ballade. Allegro energico (G minor)
Intermezzo. Allegretto un poco agitato (F minor)
Romanze. Andante—Allegretto grazioso (F major)
Intermezzo. Andante, largo e mesto (E-flat minor)
Klavierstücke, Op.119
Intermezzo. Adagio (B minor)
Intermezzo. Andantino un poco agitato (E minor)
Intermezzo. Grazioso e giocoso (C major)
Rhapsodie. Allegro risoluto (E-flat major) ca. 42 minutes
Gala Dinner
After the concert, a gala dinner was organized for a total of 450 guests at the Intercontinental Hotel in Geneva.
In the room, the president of WPEO, Mr. CHE FU gave a welcome speech to all the guests.